Congratulations on beginning the journey to becoming a homeowner!
A home is typically the most expensive purchase you will make over the course of your lifetime, which means that your financial health and preparedness is a crucial first step in the home-buying process. While the process of getting your personal finances in check and establishing a budget isn't nearly as fun as searching for your dream home, it doesn't have to be a stressful and complex one.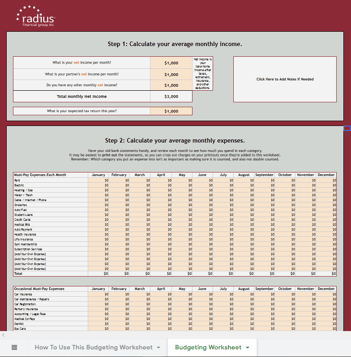 By fine-tuning your finances with a budgeting tool, you can break down your expenses and assess where you may need to make adjustments to afford your new home. Simplifying the budgeting process will equip you to view a home purchase as a lifelong investment, preparing you for a bright future ahead as a happy and financially stable homeowner.
This tool will help you:
Assess all monthly household expenses
Know where to cut back
Adjust debt
Determine a realistic and comfortable mortgage payment